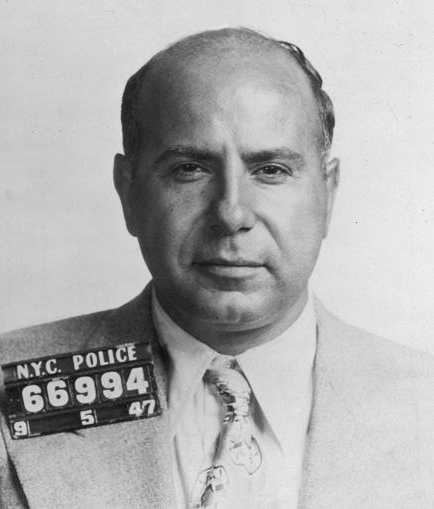 Carmine Galante was born February 21, 1910 in East Harlem and had two brothers and two sisters. His parents immigrated from Castellammare del Golfo, Sicily in 1906 where his father worked as a fisherman.
Galante was a handful for his parents early on and by 1920 at the age of 10 had been in and out of reform school. He dropped out of school shortly after and formed his first street gang at the age 15. His parents basically turned their backs on him after he was convicted of assault and sentenced to two and a half years in prison on December 22 1926.
The 1930's were a downed time for Galante. In August 1930 Galante was a suspect in the murder of police officer Walter DeCastilla but was released after the prosecution couldn't find a witness willing to talk. Before he was released doctors diagnosed Galante as having a psychopathic personality and recommended treatment. Galante ignored their suggestion and went back on the street as mafias associate. Shortly after Galante and others were caught attempting to hijack a truck in Brooklyn by (NYPD) officer Joseph Meenahan. Galante didn't plan on going back to jail and fired on Meenahan wounding him and a six-year-old bystander. In February, he plead guilty attempted robbery Galante was sentenced to 12 and a half years in state prison.
After being released on parole in May 1939 Galante went to work as an enforcer for Vito Genovese who at the time was the Underboss of the Luciano Crime Family. Galante quickly became feared in the underworld with the NYPD suspecting him in over 80 murders. In 1943 on the orders of the newly exiled Vito Genovese, Galante allegedly shot and killed Carlo Tresca, the publisher of an anti-fascist newspaper in New York. Although he was never charged with the murder he was sent back to prison on a parole violation serving almost two years.
The remainder of the 1940's were relatively quite for Carmine Galante. He worked for the Bonanno family and in particular Bonanno boss Joe Bonanno. By 1953 Galante had risen to Underboss of the family and was a close confidant of Bonanno. In 1953 Galante was sent to Canada to lead the family heroin business. The Bonanno's imported heroin from Italy through Canada and then into the United States. Galante was ruthless as he led and had several carriers murdered for slow deliveries and other seemingly minor infractions. As the body count increased, Canadian law enforcement took notice. By 1957, Canada deported Galante to the United States after trying unsuccessfully to charge him with ordering the murders.
After losing the luxury of Canada to import the drugs, in October 1957 held a meeting in Italy to develop a new system. Several American mobsters including Lucky Luciano, and Sicilian Mafioso led by Giuseppe Genco Russo attended the meeting. In the end, the agreement was for the Sicilian mafia to import the drug and for the Bonanno's to distribute. Galante brought several Sicilian Mafioso back tot eh states with him as bodyguards in an effort to protect the drug trade from renegade American mafia.
May 18th, 1960 Galante was indicted on several narcotics charges. His trial started in November of the same year, but due to several juror "dropouts" the judge was forced to declare a mistrial, and although he couldn't prove Galante was a part of the sudden juror disloyalty to the court, he sentenced Galante to twenty days in prison for contempt of court anyway. Galante's second trial started in 1962, and on July 1, 1962 Galante was sentenced to 20 years in prison.
Upon his release, Galante returned to new faces in the Bonanno family. Joseph Bonanno had been forced to retire by The Commission, one of his enemies Frank Costello (who Galante planned on murdering when he was released) had died, and Philip Rastelli was boss of the family. However, Rastelli was soon sent to prison and Galante seized effective control of the family. As a former underboss, Galante considered himself the rightful successor to Joseph Bonanno.
The 1970's were an active time for Galante. He'd missed several years in the can and came back with a vengeance. His drug business was still active however a shell of the multi million dollar empire Galante ruled before prison. His arch-rivals, the Gambino family had taken over much of the drug business and Galante saw it fit to begin taking it back. By 1978 Galante had organized at least 8 murders of high-ranking Gambino family members who were deep into the drug business. His murders did not go unnoticed with the other four families in New York. Many began to think Galante was becoming to brazen touting he would never be killed because other families didn't have the guts. By 1979 all four families and even exiled Bonanno boss Joseph Bonanno agreed Galante had to go. The Commission then ordered Galante's execution.