After the death of Giuseppe Masseria in the Casellammarese War, the organization of the "Families" was initiated in 1931 by Salvatore Maranzano.  Maranzano is also credited for creating the familiar Mafia hierarchy of the boss (capofamiliglia), underboss (sotto capo), advisor (consigliere), captain (caporegime), soldier (soldato) and associates.  Maranzano placed himself at the top of the hierarchy, declaring himself as the capo di tutti capi or "boss of all bosses".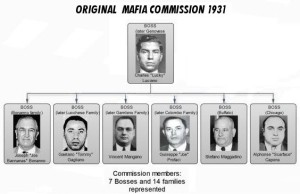 The succession of Maranzano by Charles "Lucky" Luciano ushered in management by a Board of Directors known as "The Commission" which was made up of the Five New York Families  plus the Chicago Outfit and Buffalo family.  Lucky Luciano was anointed Chairman of the Commission.  The original members of the Commission were of course bosses at the time.
The public acknowledgement of the "Five Families" was actually introduced in 1963 at the Valachi hearings.  At that time the families were identified as Gambino, Genovese, Profaci, Lucchese and Bonanno.  Subsequently the Profaci family was renamed Columbo family in deference to alleged boss Joseph Columbo.
Joseph Valachi's "disclosure's" were written down in minute detail in an extensive 1,100 plus page manuscript entitled The Real Thing.  This included the history of the mob, its structure and leadership of the Five Families at the time.  Author Peter Maas had the task of editing the original manuscript and interviewing Valachi in his cell.  In opposition to the publication of the book the American Italian Anti-Defamation League promoted a national campaign against the book on the grounds that it would reinforce negative ethnic stereotypes.  Eventually Maas was allowed to publish a third person account based on his interviews with Valachi.   The Valachi Papers was published in 1968 and made into a film starring Charles Bronson in 1972.